The Mai Tai is one of the most well known cocktails of the Tiki era. It is based on rum and associated with Polynesian-style settings. The name was taken from the Tahitian word "maita'i" which is the word for "good". But the drink is spelled as two words. Victor Jules Bergeron aka Trader Vic claimed to have invented the Mai Tai in 1944 in San Fransisco.
It quickly became well known to the world and nowadays the cocktail is considered as a classic. It was seen in the film Blue Hawai of Elvis Presley or in the Armistead Maupin book series, "Tales of the City", as the usual drink of the character Frannie Halcyon.
Throughout the years, many twists have emerged as the one presented, which transforms it into a refreshing long drink.

1 serving

5 min.

easy

cheap
Ingredients
40 ml Jamaican Rum
10 ml Triple Sec
2 dash angostura bitters
ice
mint sprig
cocktail cherries
Making
1
Fill the tall glass with ice.
2
Then, add the rum, the Triple Sec, the angostura bitter and top up with Cherry Soda.
3
At the end, garnish with a mint sprig and good quality cocktail cherries.
4
Accompany your Cherry Tai with roasted pistachios from the island of Aegina or with kavroumadakia crackers with cretan graviera cheese.

Tip
You can play around with the recipe by using different rums or creating your own unique blend. But always make sure Three Cents Cherry Soda is always ice cold !
Cheers !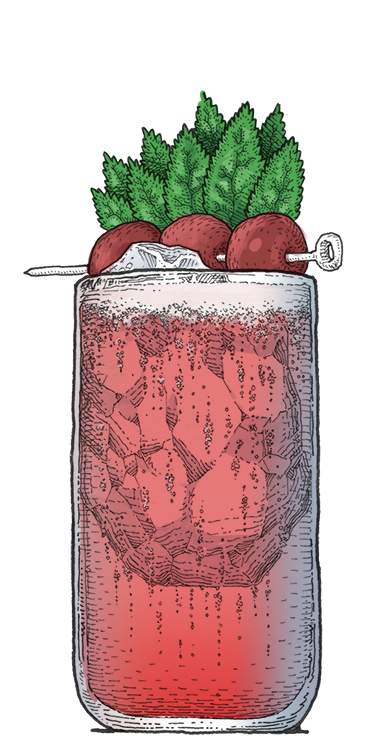 Alcohol abuse is dangerous for your health, consume with moderation.