All about Greek aperitifs, liqueurs and digestifs and how to savor them!
Ouzo, tsipouro, raki, mastiha (mastic) liqueur, brandy and vermouth are Greek drinks with a unique taste reminiscent of this sunny country that is Greece!
They can be classified into two main families: aperitifs and digestifs, even if some can be found in these two categories.
Greek aperitifs
Ouzo
Ouzo is considered the "national" drink of Greece as its production takes place exclusively under greek skies. It is an anise-flavoured alcohol, made from grapes, with a taste similar to pastis that the Greeks drink especially by the sea and that they accompany with mezzes of fish (or meat, but it is a little less common). Although historians believe that the origins of ouzo date back to ancient Greece, there is no formal evidence to corroborate this fact. On the other hand, we are certain that it was tasted at the time of the Byzantine Empire!
The island of Lesvos is considered to be the emblematic homeland of ouzo. Its tasting is accompanied by a ritual: first we use a tall and narrow glass in which we will pour the ouzo, then cold water, and finally ice cubes. Depending on taste, it is possible to drink it only with water or with ice cubes, but it is important if you want to drink it with both to first add water and then then add the ice cubes. The water transforms the color of the ouzo which takes on a white color thanks to the release of anethol. Adding ice cubes has the same effect, but takes a little longer.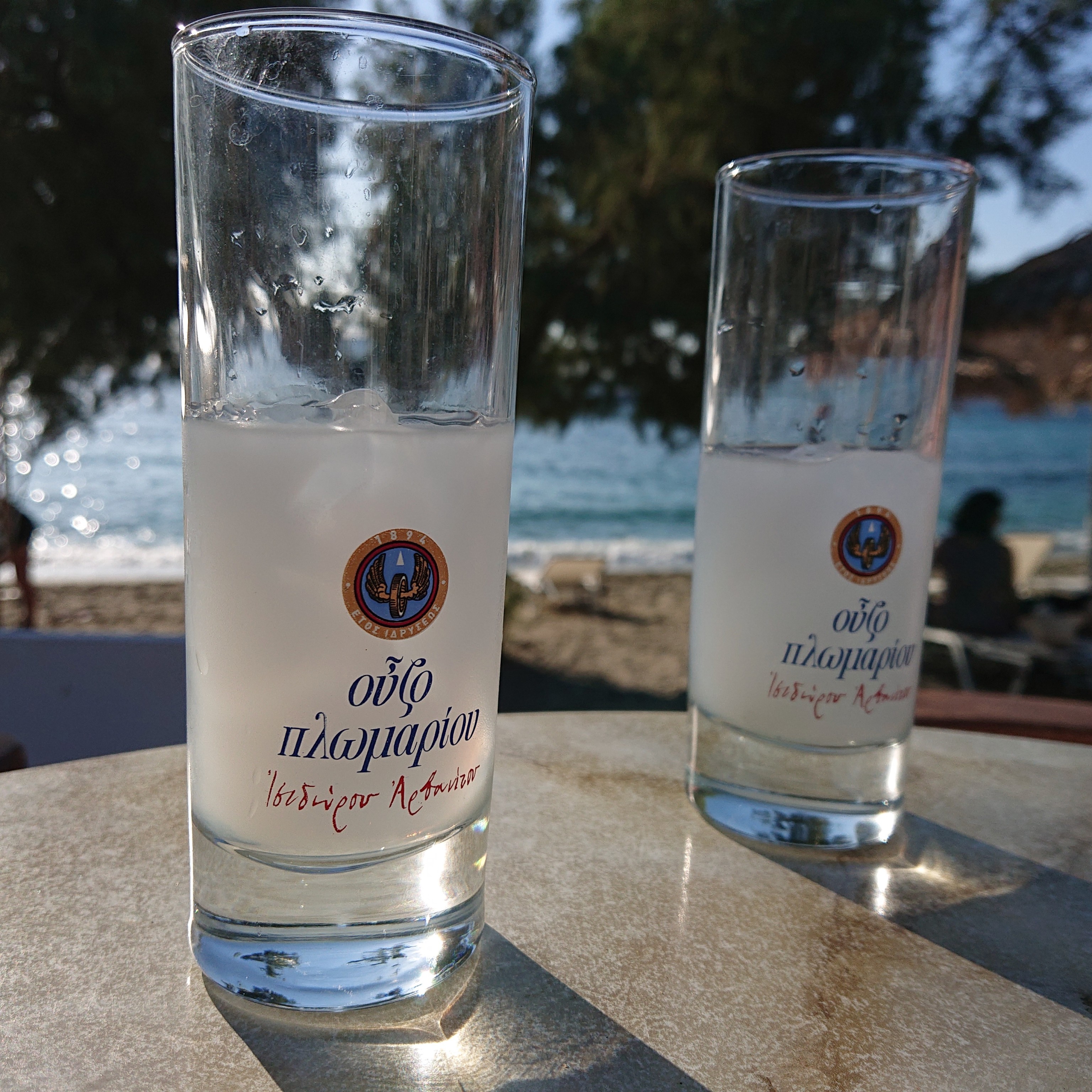 Ouzo goes perfectly with fish mezzes, such as kalamarakia tiganita (fried squid), octopus in vinegar, fried fish or anchovies. It is also customary to serve this iconic Greek alcohol with saganaki drizzled with lemon, kolokythokeftedes (zucchini balls), greek meatballs, greek olives, breadsticks or even a few slices of typical Greek cheese (kefalotyri or kasseri) with a tomato cut into 8 pieces and a little cucumber.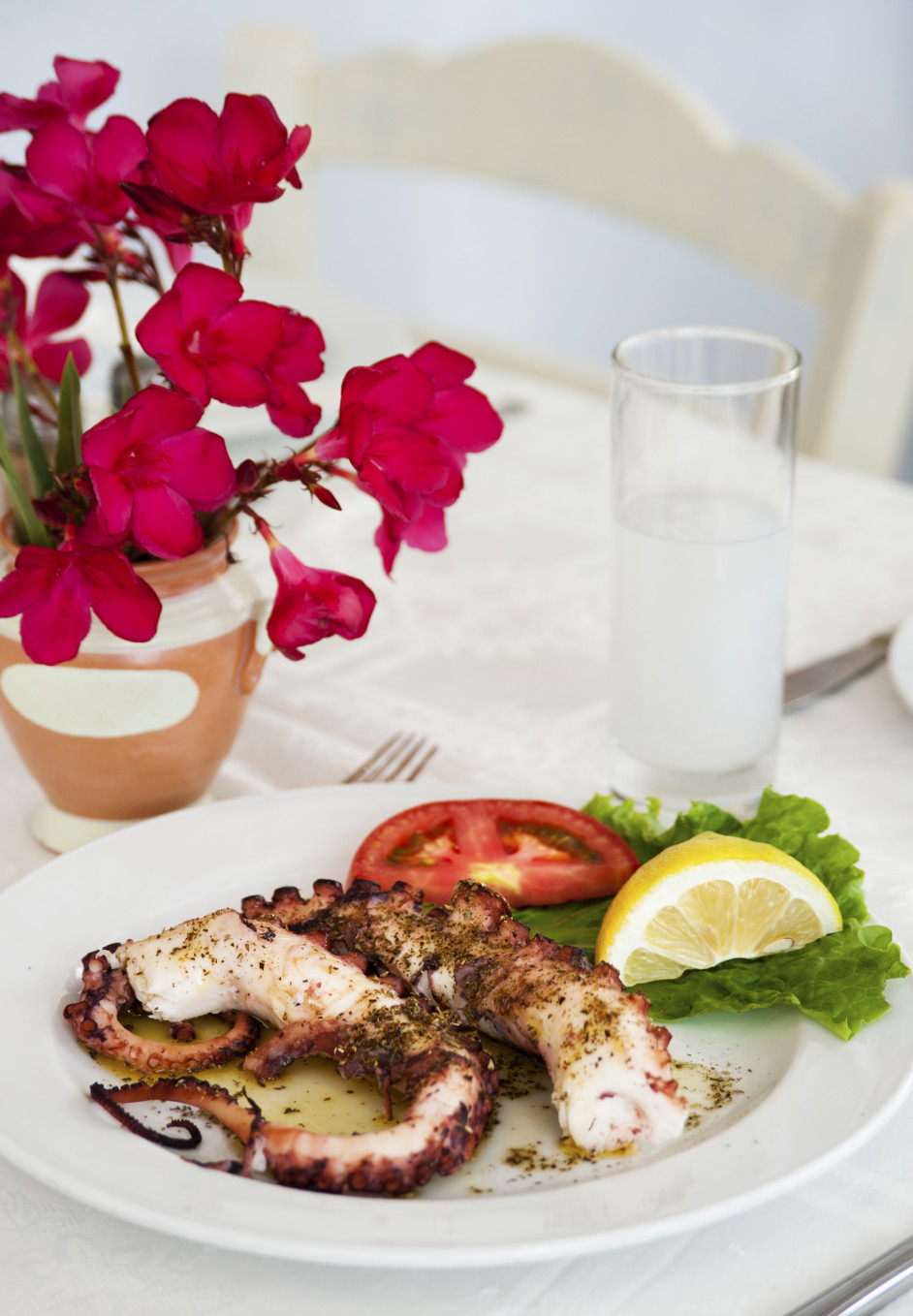 Tsipouro and Cretan raki
Tsipouro and Cretan raki are two popular alcoholic drinks made from grapes that are often confused. It must be said that they are close to each other, with an average alcohol content of around 40 ° for the bottles that are found in the liquor stores. These two traditional drinks have differences, however, starting with their origin: the raki comes from Crete while the tsipouro originates from mainland Greece. It should be noted that raki is also consumed on the Cycladic islands, such as Tinos for example. Another difference is in the manufacturing process, with raki coming from a single distillation while the production of tsipouro requires two. Finally, depending on the region, the tsipouro can be aniseed, especially towards the city of Volos in Thessaly.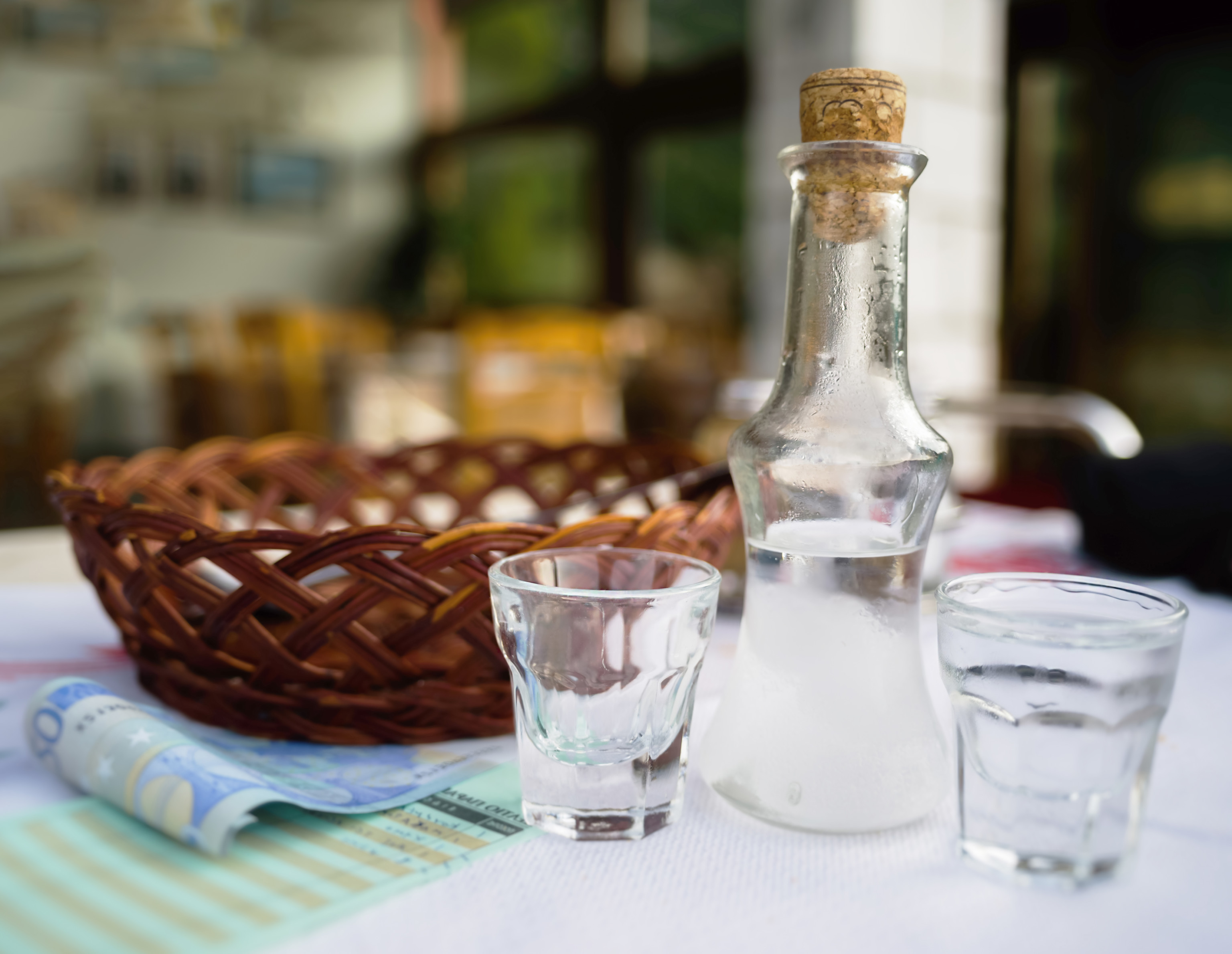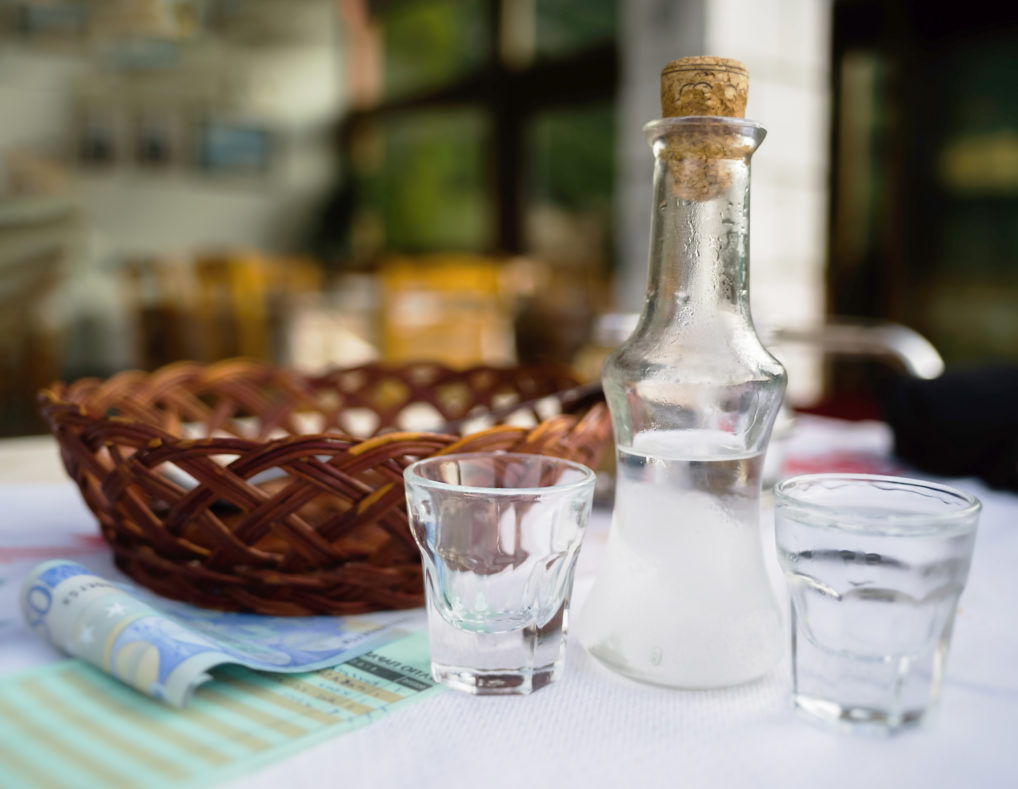 Tsipouro and raki are a little less linked by their image with the sea than ouzo. It is common for Greeks, mostly students, to meet in "tsipouradika", cafes that offer tsipouro with mezzes to go out. Tsipouro is normally drunk without ice cubes, at least if you want to drink it like the Greeks! It is always fresh and you can accompany it with mezzes of meat, fish or cheese.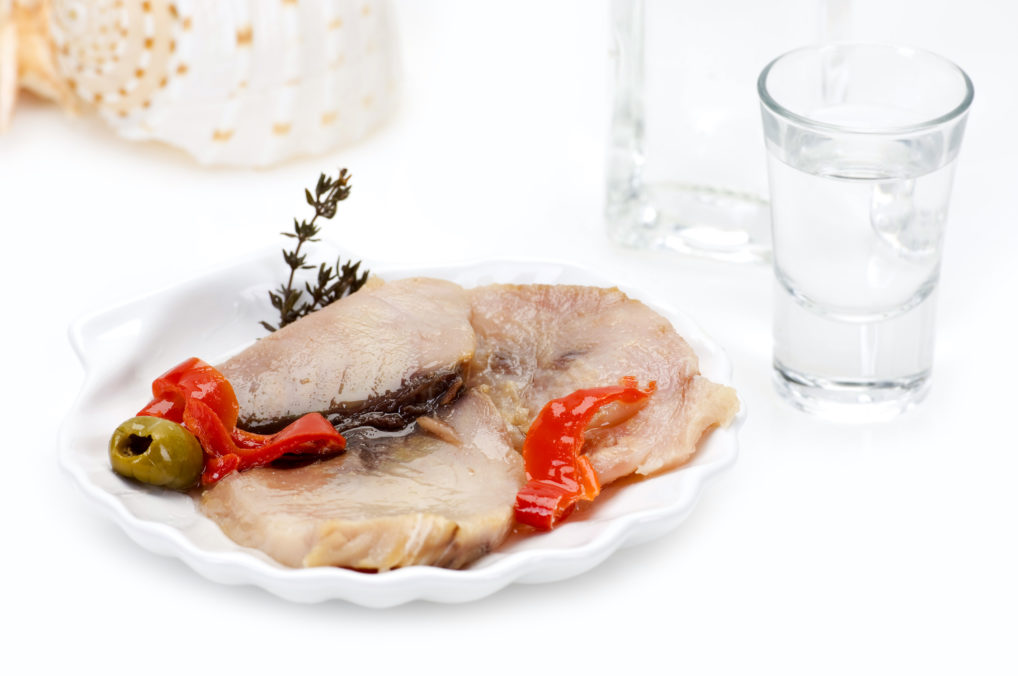 On the other hand, raki is strongly linked to the famous Cretan diet, especially because it is present in the daily life of Cretans and not only during festivals or outings. It is served chilled, in a traditional container, with small glasses and is drunk dry. Unlike ouzo and tsipouro which usually accompany mezzes, raki is also served with main dishes and desserts.
It goes wonderfully with the products and mezzes of Cretan gastronomy such as paximadia with olives, graviera and other local cheeses, aperitif biscuits such as kavroumadakia, apaki (smoked pork in vinegar – a form of Cretan charcuterie), dolmadakia (vine leaves stuffed with rice), dakos or koukouvaya the famous Cretan salad (that we love at Poupadou!), kaltsounia (Cretan tiropitakia-puff pastry with cheese), antikristo (a dish made from lamb whose name comes from the way it cooks), all grilled meats, fish, hohlious bourbouristous (Cretan snails), sfakianopites (a very fine pie with honey) or xerotigana (traditional desserts) .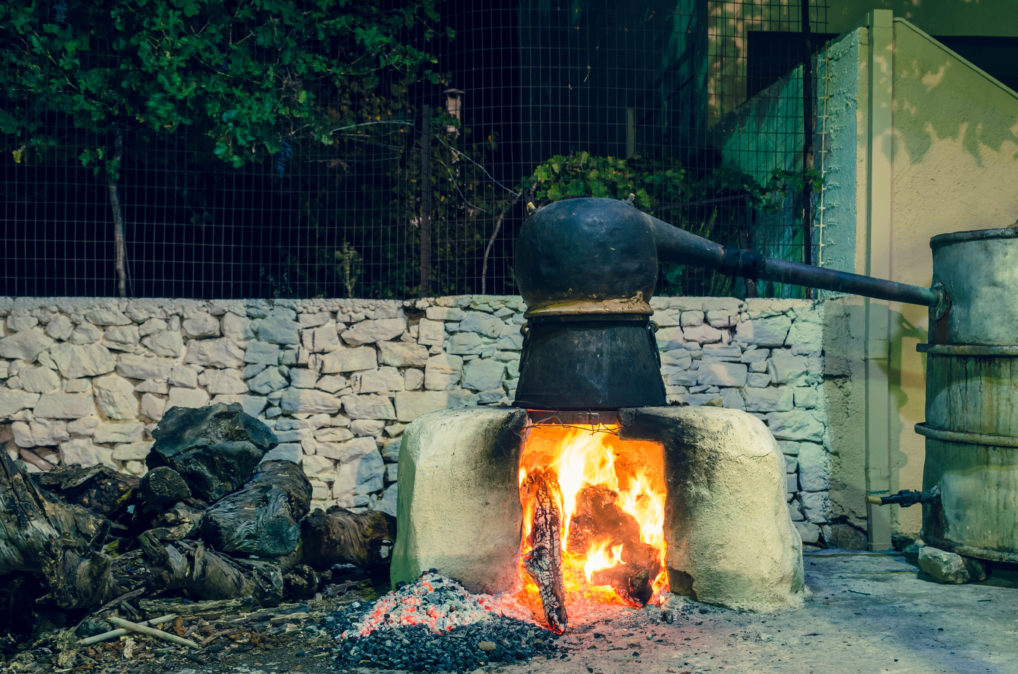 Vermouth
Vermouth is a flavoured wine or a wine-based aperitif. Its origins can be found in ancient Greece where wine was sometimes mixed with herbs, but it was certainly throughout the 18th century that vermouth took its titles of nobility by being the aperitif par excellence in the french and italian royal families. The first greek vermouth was created in 1860 by Ioannis Voucher, and experienced a resurgence in the 1960s, when in Greece as everywhere in the world vermouth was the aperitif par excellence, enjoyed in a tall glass with ice cubes. After his period of glory, it was somewhat forgotten but in recent years it has made his comeback !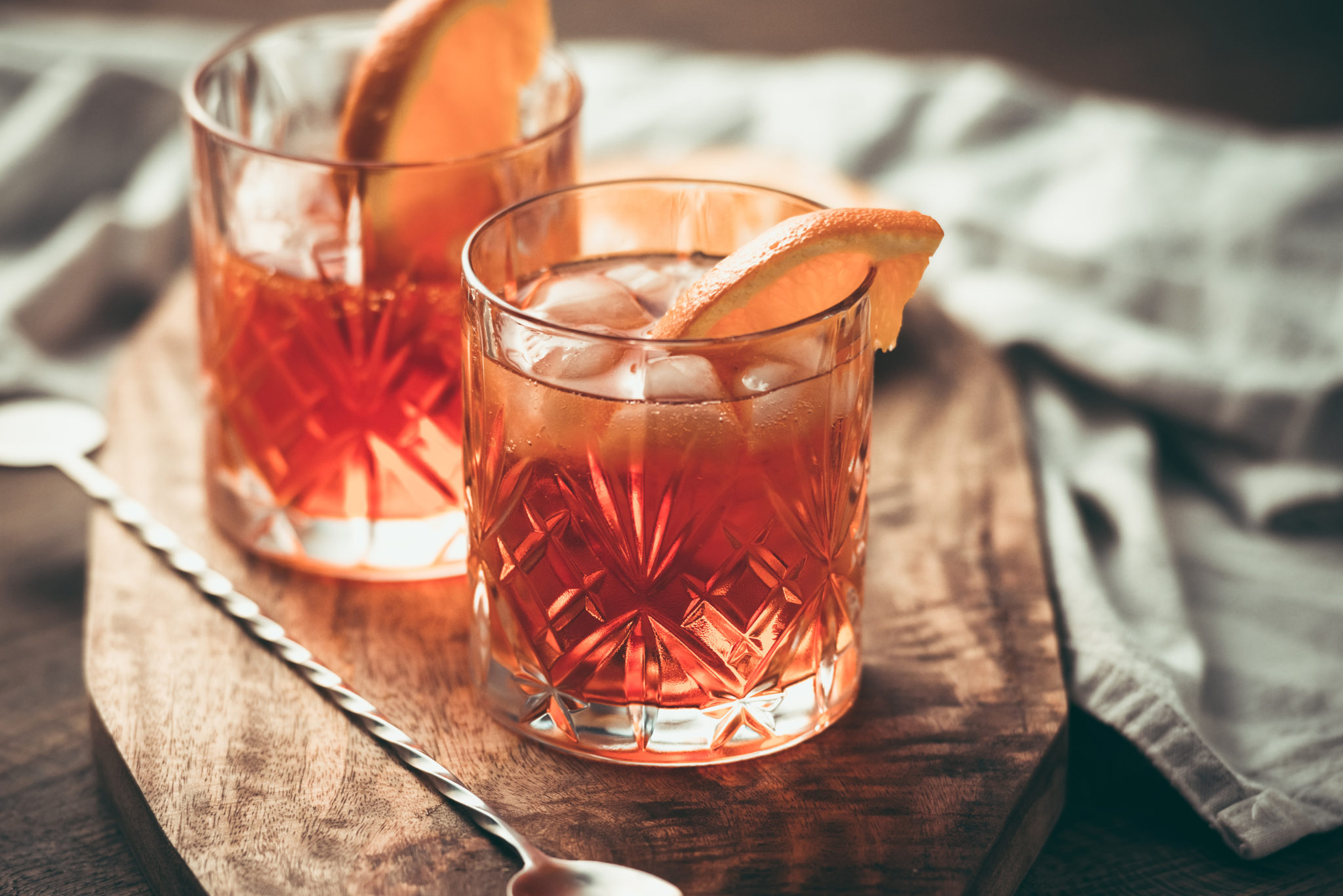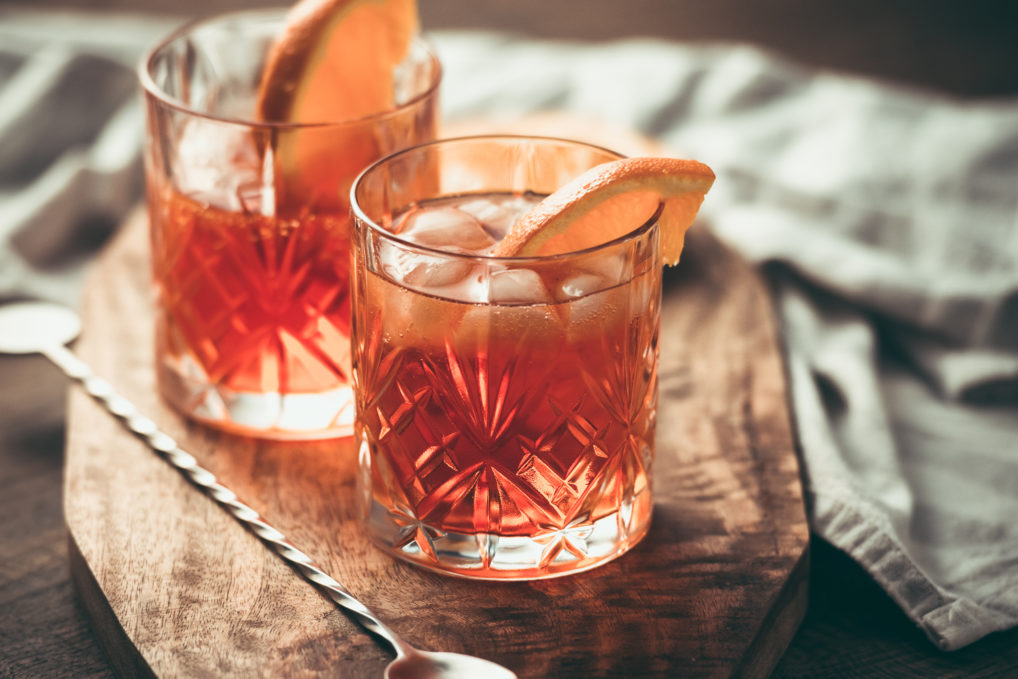 Otto's Athens Vermouth is a typical example of sweet Greek vermouth infused among other things with ingredients such as rose petals and citrus fruits and which can be enjoyed as an aperitif, dry or on ice, or in cocktails. Normally, vermouth in Greece is accompanied with dried fruits, such as pistachios from Aegina, roasted almonds, raisins, breadsticks with Kalamata olive tapenade or with appetizer biscuits such as kavroumadakia or salty popcorn.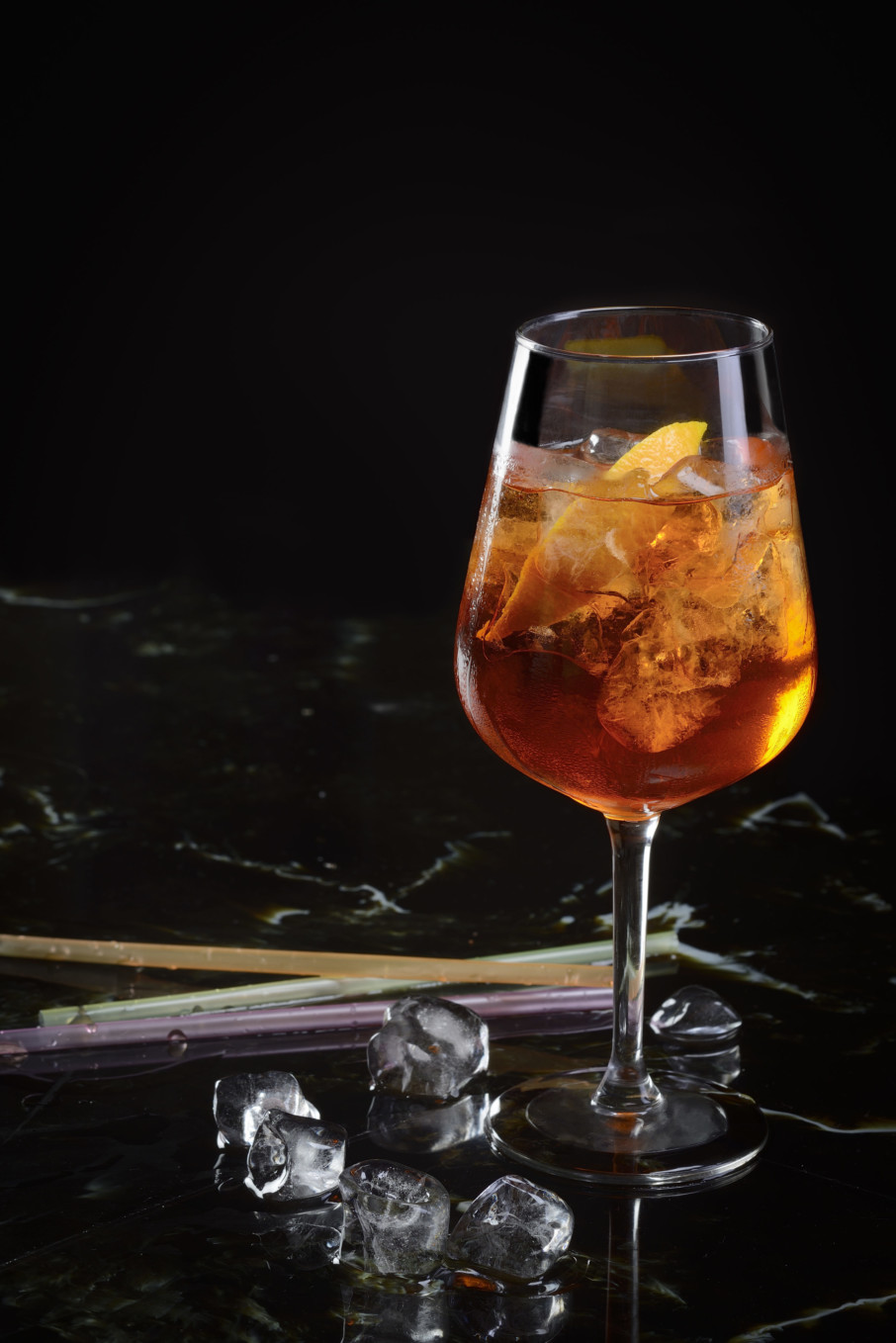 Greek digestifs
Just like the previously mentioned raki, mastiha liqueur and Metaxa brandy are two other digestifs commonly tasted in Greece.
Mastic liqueur from Chios
Although the Mastiha (mastic) liqueur from Chios is not as well known around the world as raki or ouzo may be, it is nevertheless very widely known and used in Greece. The Mastiha tree only grows on one island in the world, the island of Chios. Its bark is scraped off and the sap flowing from it produces what are called Mastiha's tears, which fall from the tree and dry naturally in the sun. The tears are then scraped off and cleaned by hand. It is from these tears that resemble nuggets that the Mastiha liqueur is produced, making it a rare, traditional Greek liqueur with a unique flavour in the world.
Traditionally, mastiha liqueur is served as a digestif, it is offered in small glasses at the end of the meal and is drunk very cold, or even frozen, because it is kept in the freezer. In recent years, Mastiha's liqueur has gained prominence on the cocktail scene in bars with unique compositions such as the Skinos Tonic which will change you from the classic Gin Tonic, or the Greek Spritz.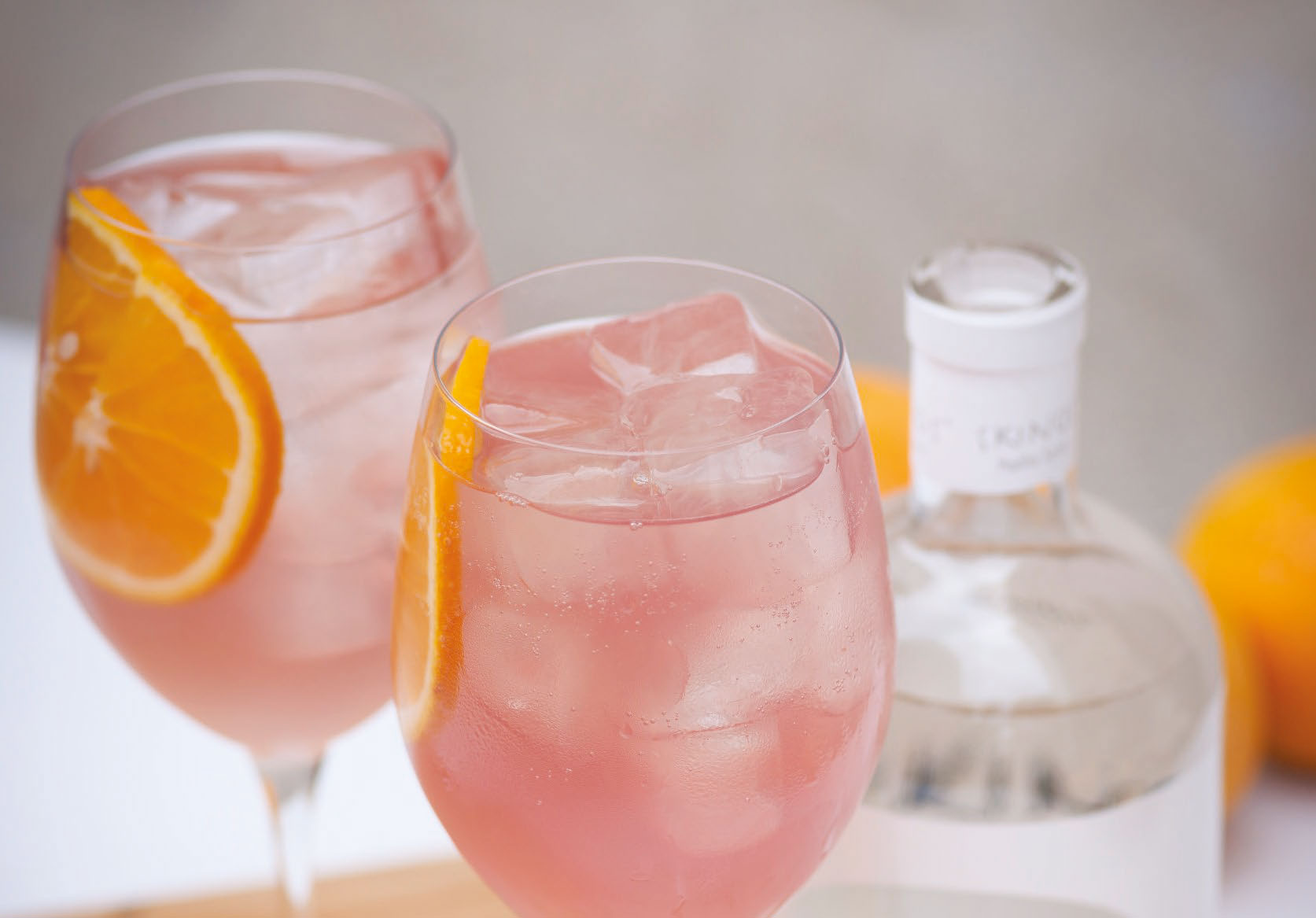 Metaxa
Metaxa is a Greek spirit obtained from eau-de-vie aged in oak barrels, Muscat from Samos grape varieties, rose petals and Mediterranean aromatic herbs. Spyros Metaxas created this drink in 1888. Often compared to cognac, brandy or even whiskey, Metaxa 12 stars has a unique and inimitable aroma! The Metaxa is served after the meal and it can be accompanied by 2 or 3 pieces of dark chocolate. In Greece it is a drink that will generally be tasted in winter. On the other hand, the best bartenders around the world have appropriated it to prepare signature cocktails accompanied by dried fruits such as pistachios from Aegina, raisins, almonds, breadsticks or even olives.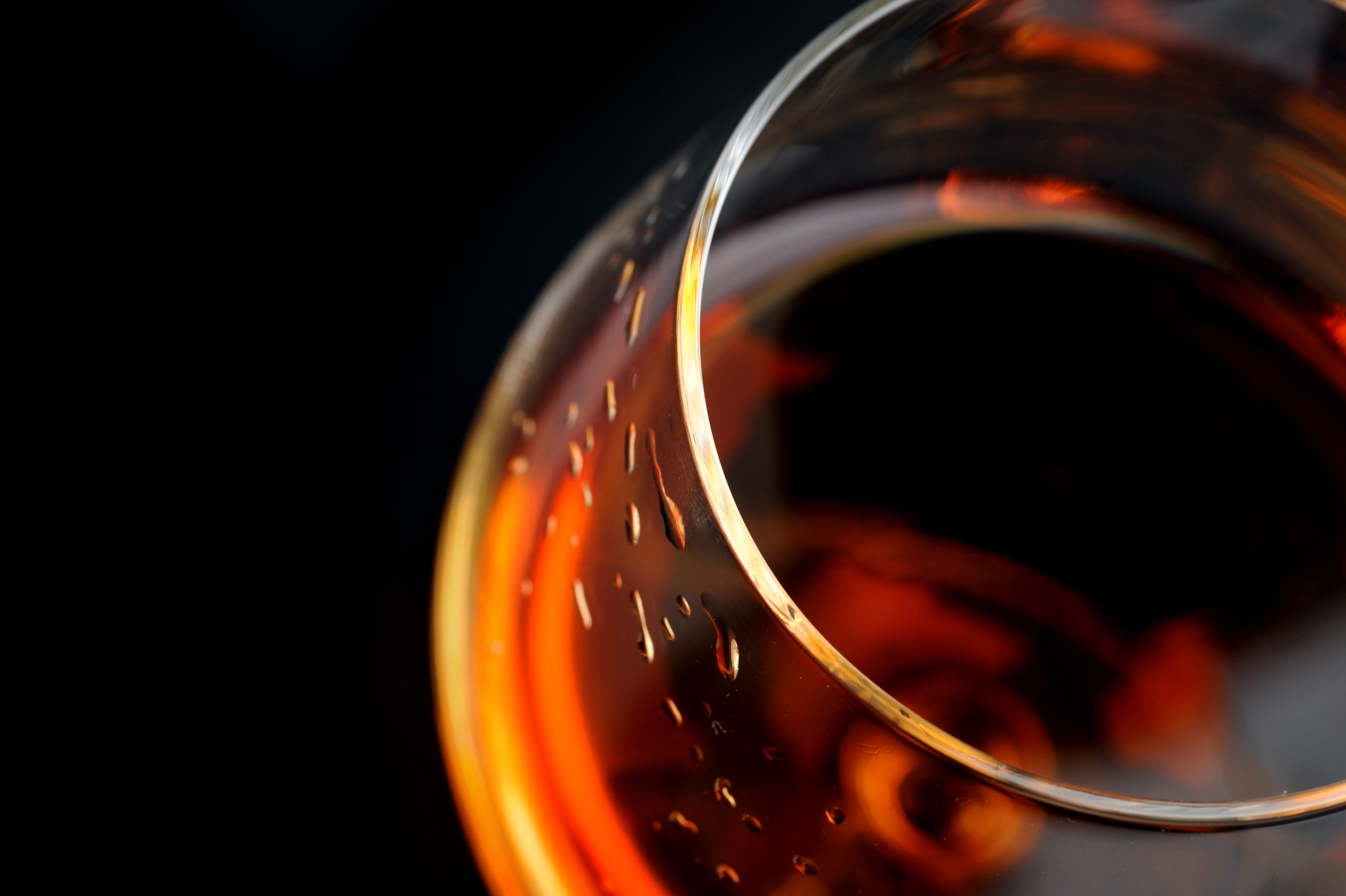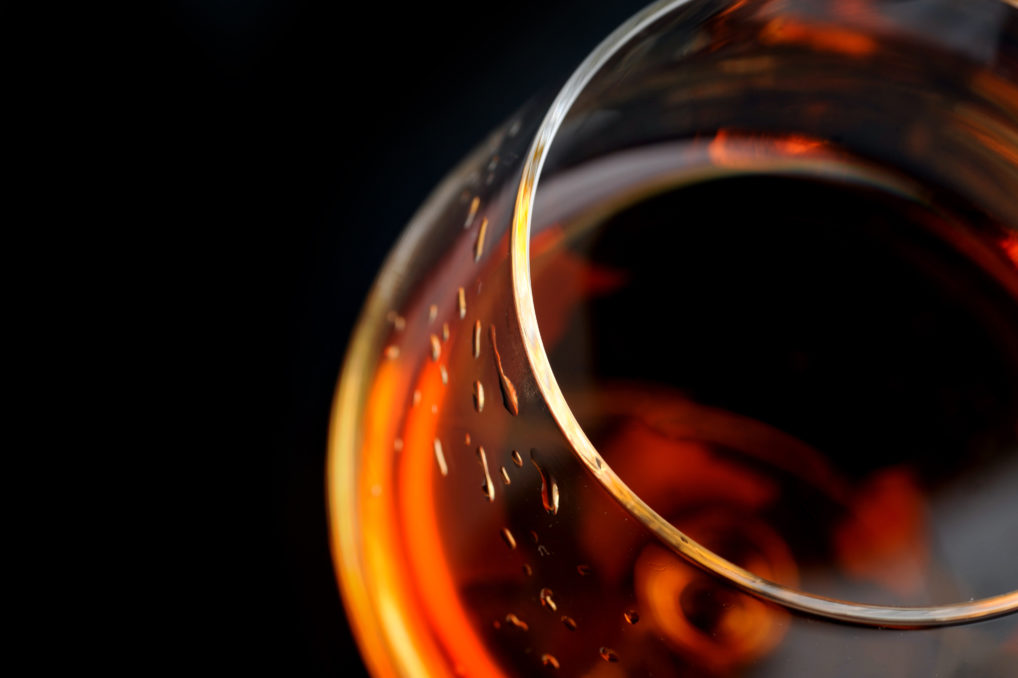 Of course, all these drinks are to be consumed in moderation! Do not hesitate to send us your comments, and if you need advice or are looking for Greek spirits, do not hesitate to contact us directly on our site or via our facebook page 🙂